Wade

is a

Vietnam Veteran

who served for 12 years in the

United States Navy

.
Ruby

has been a volunteer with Mission K9 Rescue since 2013. She is a member of the United States War Dogs Association and has been a board member with the Colorado Wolf & Wildlife Center since June 2002.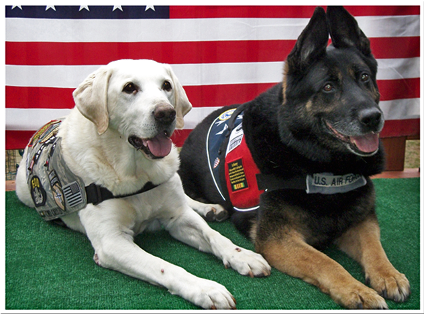 OUR JOURNEY for War Dogs began in November, 2011 when we adopted CWD Carlos, an 8 year old retired Explosive Detection Dog that had served for 5 continuous years in Iraq and Afghanistan. Adopting Carlos changed our lives and inspired us to be a voice for our nation's heroes with 4 paws and fur. Educating the public about War Dogs (MWDs and CWDs) became a passion and has brought us to where we are today.
In August 2013, we were honored to adopt Military Working Dog Alik H218, an 11 year old retired Patrol/Explosive Detector Dog that served for 8 years with the USAF Security Forces that amazed us with his loyalty and zest for life.
Although we lost our beloved CWD Carlos in November 2014 and MWD Alik in May 2015, we gladly opened our hearts and home to CWD Boss, a retired Mine Detection Dog that served in Kuwait for 11 years. We were privileged to provide Boss with a loving home until he passed away in May 2017 at almost 14 years old. We continue to be inspired by MWD Tomo R536 that served with the US Army as a Tactical Explosive Detector Dog in Afghanistan that we adopted in August 2015.
We have given presentations about the selfless sacrifice and service of War Dogs at numerous venues including Expos, Civic Organizations, Clubs and Elementary Schools along the front range of Colorado since 2012.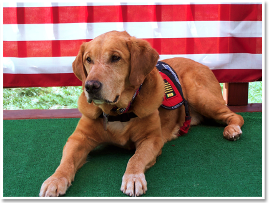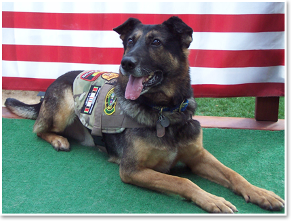 Ruby has traveled coast to coast (Los Angeles, Dallas, Washington DC & New York City) with CWD Carlos and MWD Alik educating people about our nation's working dog heroes.


In 2013, Ruby had the privilege to travel to Washington DC with CWD Carlos and speak at a Congressional Briefing on Capitol Hill on behalf of our nation's working dog heroes.
In 2014, Ruby traveled to New York City with MWD Alik to honor War Dogs in the Veterans Day Parade.



The over 4,000 dogs that were euthanized or left behind in Vietnam deserve to be honored.
The dogs that have sustained injury or given their life willingly and selflessly deserve to be honored.
All War Dogs (MWDs & CWDs) have earned and deserve to be revered forever.
We are dedicated to building the War Dog Memorial that will honor the dogs that have served and continue to serve protecting our troops, country and freedoms both domestically and overseas.
Wade & Ruby Ridpath
Watch A News Story About Us
The War Dog Memorial Colorado is a 501(c)3 Non-Profit organization. EIN #82-0821206
Contributions are tax deductible to the extent allowed by law.